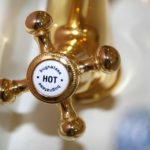 Anti Scald Valves are very important safety features. Water burns make up a lot of emergency room visits each year.
In terms of installation, the process is largely simple and actually cheap. Whilst requiring a cold water feed, the modern models can be installed in the hot water line. In order to stop the hot water from going into the cold water system, a swing check valve may also be required. Depending on the building in question, they might be installed at specific fixtures or in the water heater itself to protect the plumbing.
After installation, you might notice that there is a difference between the target temperature and the one leaving the fixture. If this is the case, it could be a defect in the valve or it could be uninsulated plumbing lines. However, there is a rotating mechanism that allows the valve to be fine-tuned – using this, the water will become hotter or colder depending on the turning direction. If you have any concerns or questions to ask, InterNACHI inspectors are always available as are qualified plumbers who will offer advice.
Ultimately, you can reduce the amount of fluctuations seen in your running water by using an anti-scald valve. Once installed, the risk of burning or related accidents reduces significantly.